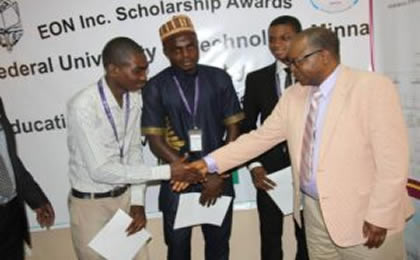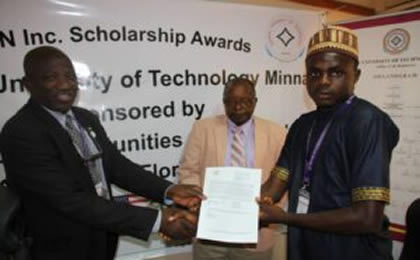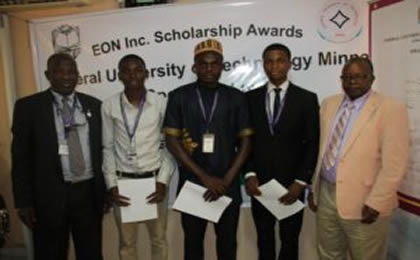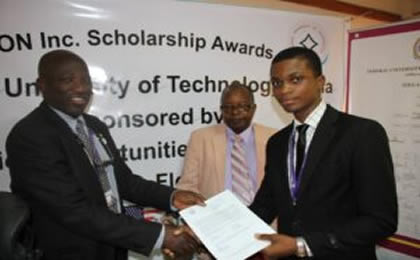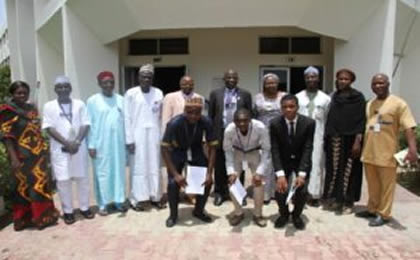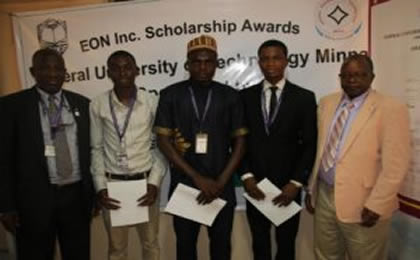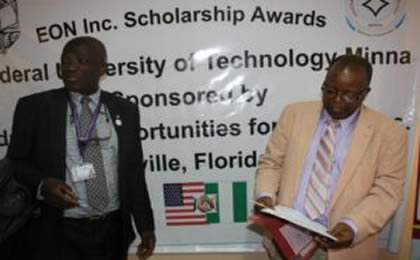 THE THREE AWARD WINNERS FROM CHEMICAL ENGINEERING DEPARTMENT OF FEDERAL UNIVERSITY OF TECHNOLOGY, MINNA.
2017 Names of Scholarship recipients at Federal University of Technology Minna 2017.
Oluyomi Ayanfeoluwa O, (Cyber Security Dept.)
Adebayo Karibu (Civil Engineering Dept.)
Bello Mubarak Ayo (Chemical Engineering Dept.)
The award this year remains $500.00 each.
Two Faculty members Dr. I. K. Olayemi and Dr. F. A, Kuta and Secretary under the leadership of the Dean of Student Affairs Dr. A. N. Saidu conducted the evaluation that led to the choice of the three award winners.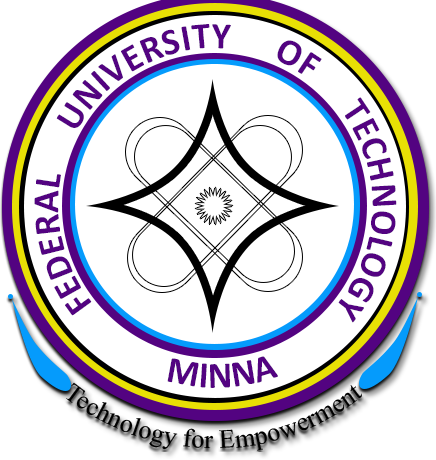 FUT MINNA specializes in technological education. Offering Bachelor's of Technology, Master's of Technology in various technology inclined field. The university is a designated Centre of Excellence in Biotechnology and Genetic Engineering and has a core competence in the development of vaccines and drugs, also small arms design in partnership with the Armed Forces of Nigeria
---
PRESIDENTIAL SPEECH DURING THE SCHOLARSHIP AWARD FEDERAL UNIVERSITY OF TECHNOLOGY MINNA SPONSORED BY EDUCATION OPPORTUNITY FOR NIGERIA Inc. (USA)
Honoring 3 winners of 2015 scholarship awards of N35,000.00 each
Ladies and gentlemen,

Welcome to Federal University of Technology 2015 Scholarship Award Ceremony. This is a joint venture in partnership with Education Opportunities for Nigeria Inc. (EON Inc.) in Gainesville, Florida. Today, we want to celebrate with each and every one of you. We also want to acknowledge those special folks who made it to happen here on this Campus with gratitude. William Arthur Ward said "Feeling gratitude and not expressing it is like wrapping a present and not giving it" and I agree. You will therefore allow me to publicly acknowledge the laudable effort of the team under the leadership of the Vice Chancellor, Professor M. A. Akanji. The team worked relentlessly from the day the idea was introduced to actualization of the program today.
Yes I know you will all like to know how I came about this program. My family visit to Nigeria many years ago made me witness the reflection of collapsed economy in our society especially in our education sectors. What I saw was the confirmation of what I read and heard about concerning the conditions of our campuses across the nation; plagued with students strikes, Academic Staff Union of Universities (ASUU) strikes, Universities laboratory replaced busing burner with kerosene lambs, Digital gap, four years degree program turning 5 if not 6, Campus Cults clashes and practical laboratory experiments turned to theoretical laboratory study. What I learnt from my father about caring for others, instantly jolted my spirit. And so, I started collecting books and raising money, with the help of my American friends who opened their generous hearts to help. The result has been EON (Education Opportunities Nigeria Inc.). We are a small nonprofit, but we do our best to provide Nigerians with some of the resources they need to climb out of their need and illiteracy and begin the journey to fullness of life. Today is another mile stone in the train of awards which started from Ahmadu Bello University in Zaria, University of Awolowo at Ile Ife, Federal University of Technology in Owerri and Rufus Giwa Polytechnic in Owo.
Your coming to the University is a testament to your family resolution to pursue the path of a better life. We must not let the dream die because of adversity but take the touch of our dream to a higher mountain and not under the bushel. To this end, our Team of Directors and American Donors of all degrees in unity are joining forces together with you to realize your goal.
This award today is a collective effort of students like you who gave me their books, Professors who donated and sort listed the books, children with families who participated in our annual fund raising effort (Race To Read), Ms. Ann Voyles whose family donated storage space, Alachua County School Board that 50 computers among other things and Churches in my community like The Rock Church of Gainesville Florida under the leadership of Apostle George Brantley. If time will permit, I will like to recognize the Gainesville Inmates of Florida who volunteered to load the first container sent to Nigeria University Commission in 1994. The team made us the first responder. Today, our team is working on the 6th shipment to Nigeria. Together we had provided over one million dollars of education support to Nigeria Institutions.
Allow me to modify the quote from President Clinton of United State; "There is nothing wrong with Nigeria that cannot be fixed with what is right with Nigeria". Talented Nigerians all over the world are therefore chipping in their efforts like Education Opportunities for Nigeria Inc. EON Inc. is among many non-profit Organizations across the globe that is taking bold and persistent steps to compart the carousel of educational regression in our country.
My fellow citizens, fifty nine students participated in this scholarship process. Different academic aggregate criterial were considered. It was difficult process but the faculty here had carefully arrived at three final candidates. Please join me in honoring these students from college of Chemical Engineering. The three are 400 level students with more than 4.50 Cumulative Grade Point Averages (CGPA). Starting from the third candidate, the winner is Mr. OGABIELA ISAAC OCHE. The second winner is Mr. NGOZICHUKWU BRIGHT and the first Candidate is Mr. HAKEEM IBRAHMI G.
Appreciate the willing Students who are willing to accept the scholarship
Mr. OGABIELA ISAAC OCHE is a Chemical Engineering Major with a Scored 60 Cumulative Grade Point Average (CGPA) of 4.77. A 400 level student. 3rd
Mr. NGOZICHUKWU BRIGHT U is also a Chemical Engineering Major with a. Scored 62 CHEM ENGR (CGPA) 4.84, A 400 level student. 2nd
Finally we have another Chemical Engineering Major, Mr. HAKEEM IBRAHMI G. with a Scored 65 (CGPA) 4.72 A 400 level student. 1st
From this joyful gathering of celebration, I again congratulate Messrs. Ibrahim, Bright and Isaac.