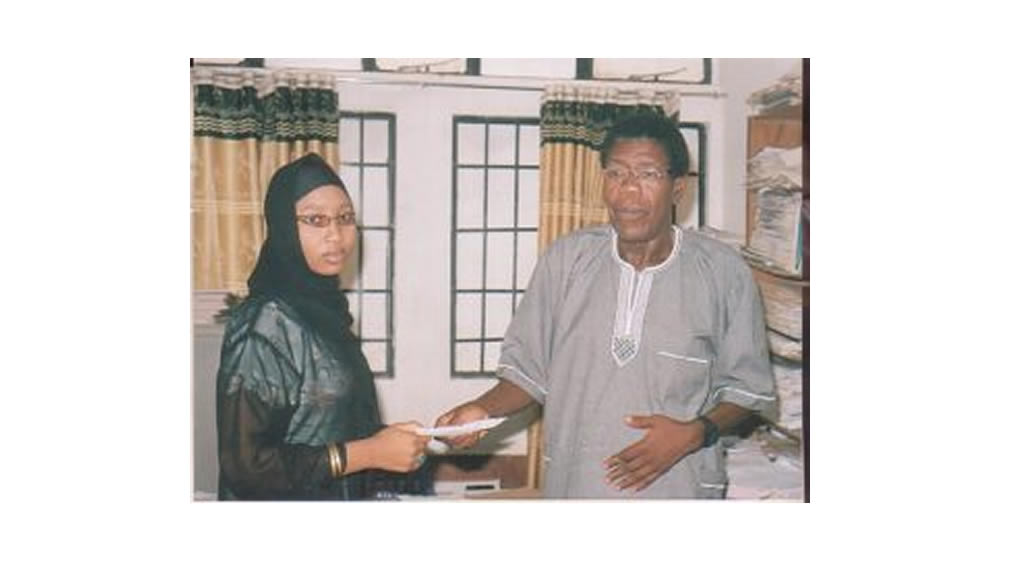 Standing in the picture are Professor Bonire at ABU, Zaria, and the recipent of 2009 scholarship. Miss Hadiza Oyiza of Ahmadu Bello University, Faculty of Social Science Department of Mass Communication. Zaria. Kaduna State
2009 scholarship recipient - Miss Hadiza Oyiza Acceptance Speech
PLANNED CONTRIBUTION TO MY NATION AFTER I EARN MY DEGREE.
I believe in my country NIGERIA. I believe I can change HER, direct HER and put HER in a situation where SHE will be loved and cherished by all. All this can only be achieved through COMMUNICATION.
I am studying mass communication because I believe it's the only course that when studied, aids in effectively communicating to people in various forms for easy understanding. It's a course that caters for the communication need of the public.
In studying this course, I intend to make various meaningful contributions to the needs, yearnings and aspirations of the people of my country especially the impoverished that have been relegated to the background and also whose voices are not being heard by the leaders.
Firstly, I would like to improve on the way messages are being communicated to the public as the literacy level of the masses vary, therefore communicated messages will be understood differently. To curb this problem, simplicity should be the watch word; words should be communicated in the simplest way possible, either in the lingua franca (English Language) or other indigenous languages. This will go a along way to create a serene communication environment between the goverment and the people or vice versa, which in the long run fosters rapid development in the society.
Secondly, I would like to contribute to the area of objectivity. Objectivity overlooks biases or sentiments in either reporting or writing of news stories. News events should and must be reported as it happened and the audience should be allowed to make their own judgements based on the facts put before them. A reporter or any media personnel is not supposed to take sides on any issue of public interest as this may stir up controversies between people in the society since the media is a very strong influential tool to the public. To prevent such controversies therefore, a journalist or personnel of any media organization should try as much as possible to be objective in his or her dealings to allow for the smooth running of any country.
Lastly, another area which I would like to delve into is the control of obscenity, violence and crime which is gradually becoming the other of the day in media contents. These moral vices which is being displayed by the media is eating deep into the youths of our society and the only way it can be stopped is through rigorous screening of media content as well as contribution from media personnel in terms of broadcasting good moral messages. This will greatly reduce crime rate and various immoral acts in the society.
In conclusion therefore it is of utmost importance for people to know the effectiveness of mass communication as a whole and also how it can go a long way to influence decisions of any given society. Decisions that can change lives, issues, developmental processes, perceptions, ideas, attitudes, morals, believe, visions, achievements and so on, all for the better. As the saying goes NO COMMUNICATION, NO SOCIETY.